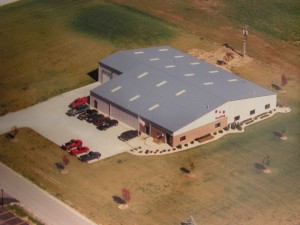 B&B Tooling's first structure was built in 1994 by owners (father and son) Art and Lee Bohman. In January of 1995 B&B Tooling Inc. was proud to open their doors for business. They started with a 6,000 sq. ft. building and only two other employees. In 1998 the company had grew and was able to expand to a 14,000 sq. ft. building and today employees 10 dedicated workers. Art has since retired and has handed all responsibilities solely to Lee.
We are a machine shop with quality workmanship as well as a friendly environment. We take great pride in our work, always striving for phenomenal quality. Rated alongside of quality, we strive for on time delivery. Our customers are our number one priority.
The company is continually growing in knowledge and in the expansion of machines. here we make the following but not limited to: gages, fixtures, powdered metal tooling, parts, and fixtures, geared toward the automotive field, and so much more. In 2004 B&B Tooling Inc. Became ISO certified, now ISO-9001:2008, allowing us to open the door for more opportunities. We are located in Southern Indiana in the eminent town of Greensburg. The shop is within proximity to I-74.